While it still feels like summer in North Carolina, we know that fall is just around the corner. And with fall comes Halloween, junk food, and pumpkin spice lattes. While a lot of the trendy fall foods may seem enticing, they could be damaging to your oral health.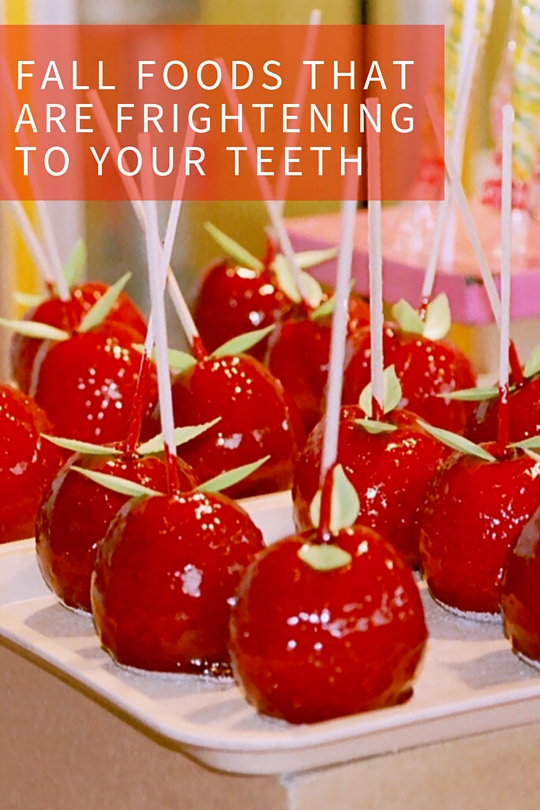 Here is a list of foods that you should try to avoid eating, for the sake of your teeth and gums, during the autumn season:
Caramel Popcorn – The combination of sugar and stickiness is a cavity waiting to happen. If you've ever eaten caramel corn you know that your teeth start hurting while you're eating it! Try your best to avoid the temptations of caramel corn or popcorn balls to keep your teeth sugar and sticky free!
Candy Apples – You may feel like your trip to the North Carolina state fair is incomplete without a fried treat or a candied apple, however those yummy treats can do more than just satisfy your fair food craving. Opt for a different kind of fair treat and your teeth and gums will thank you in the long run.
Spice Lattes – In its natural form, coffee and tea can be healthy beverages. However pumpkin spice lattes from your favorite coffee shop usually contain way more sugar than standard drinks. Plus, the frequent consumption of coffee or tea can stain your teeth. If you can't resist the spice latte, keep your add-ons to a minimum and make sure to drink enough water.
Dried Cranberries – Sticky foods are your mouth's biggest nightmare, even though dry fruit is considered healthy. Sticky foods are more damaging to your teeth because they tend to cling to your teeth longer than other foods. If your favorite snack is dried fruit or trail mix, make sure to rinse with water afterwards, and brush and floss thoroughly after you're finished snacking.
Cream Soda – When you drink sugary substances like soda for long periods of time, plaque bacteria uses that sugar to create acids that attack your enamel. Most soft drinks are acidic and therefore harmful to your teeth.
Don't forget that you should be visiting your local dentist every six months for your routine exam and teeth cleaning. If you live in Raleigh, Durham, or Chapel Hill schedule your appointment with Sunrise Dental by filling out our contact form or calling the location nearest to you: -Raleigh: 919-878-0055 -Durham: 919-493-3355 -Chapel Hill: 919-929-3996