Preventive Dentistry Helps Detect Cancer And More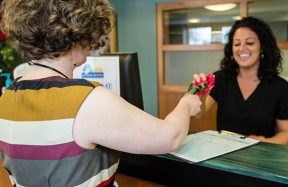 Our Team is of the opinion that preventive dentistry is the key to a happy and healthy life. That's why Dr. Vice strives to cover all the bases when you come in for your professional teeth cleanings and oral exams every 3-6 months. These are the times when we can do you the most good and really put our tools, training, and technology into action. Obviously, we would want to try and detect anything that seems amiss in your mouth early enough to be able to do something about it before it is too late for conservative treatments. This is especially true of oral cancer. Keep reading to hear all about how, together, we can keep you on the good road at every stage of life. Don't forget to follow up and schedule your next visit to Sunrise Dental!
Telltale Signs Of Oral Cancer
Some oral cancer indicators include: white, red, or speckled lumpy spots; sores; raised bumps; open wounds; ulcers; bleeding in the mouth; pain when swallowing; difficulty moving your jaw; etc. Let us know ASAP if any of those things appear. And make sure you reduce your risk of contracting this deadly disease by keeping up with your preventive dentistry visits and knowing the following risk factors:
Tobacco
As we mentioned in a recent blog post, tobacco is NOT good for your smile. What's more, research has shown that tobacco use is the #1 cause of oral cancer in the United States.
If you aren't using tobacco, please don't start. It dramatically increases your risk of oral and many, many other kinds of cancer. If you already smoke, chew, dip, or vape, you need to seriously think about quitting.
Alcohol
Alcohol abuse is another major risk factor as far as oral cancer goes. If you smoke and drink, that is a double-whammy. Alcohol dries out the soft tissues of your mouth. This can make it easier for the chemicals in tobacco to get into those tissues.
Junk Food
We always tell our patients like you to be mindful of what you put in your body. Eating plenty of fruits and vegetables can actually lower your risk for mouth cancer.
Sun
Don't over do your time in the sun. Sunburns have been linked not only to skin cancer, but to cancer on your lips as well.
Genetics
When you have a history of cancer your likelihood of developing oral cancer is much higher, which means you will need to be more cautious when it comes to the factors that you can control.
Sunrise Dental
As we already discussed, next to prevention, early diagnosis is the safest bet for beating oral cancer.
Coming to our office every 3-6 months will allow us to keep up with whatever is going on in your mouth. Our trained-eyes and modern preventive dentistry technologies will go a long way toward keeping you safe.
Practice Prevention, Call Today!
Dr. Vice has had the privilege to care for and enhance the smiles of many wonderful people for over 30 years now. To schedule your next preventive dentistry appointment in North Carolina, call one of our convenient locations today! Chapel Hill: 919-929-3996, Raleigh 919-878-0055, Durham: 919-493-3355 Cary: 919-701-6699!