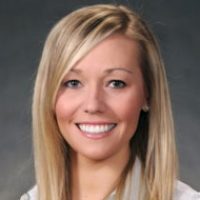 Caroline Jones, DDS - Chapel Hill Location
Dr. Caroline Jones, a native of Durham, NC, received a Bachelor of Science degree in biology from the University of Georgia in 2010, where she graduated magna cum laude. After completing her undergraduate studies, she attended the University of North Carolina at Chapel Hill School of Dentistry, receiving her Doctor of Dental Surgery in 2014.
Dr. Jones is a member of the American Dental Association and of a local Seattle Study Club to further her knowledge of the dental profession. In her free time, she enjoys cooking and traveling with her fiancé, Seth, and watching UGA football. She also loves spending time with her friends, family, and two lovable dogs, Corky and Bear — both yellow Labs. She is looking forward to meeting you and crafting your new, beautiful smile.
"I'm from born and raised in Durham, North Carolina. I went to high school in Durham and then went down the University of Georgia for undergrad. Major in biology. I also know I wanted to major in biology, loved science. Then, from the University of Georgia, headed up to Chapel Hill back home for dental school, which was nice to be back close to home. It was just a really good experience being at Chapel Hill. They have a great program there, and I feel like they really taught us well and had a great education that made us very well prepared for the real world and to practice dentistry."