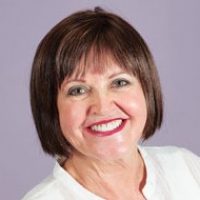 Dinah Vice, DDS - Chapel Hill, Durham & Cary Locations
Dr. Dinah Vice first became interested in dentistry while an undergraduate at The Ohio State University in Columbus, Ohio. Her teeth were very crooked, and she lacked self-confidence when she smiled. Dr. Vice entered The Ohio State University Program of Dental Hygiene in 1970. Upon completion, she practiced dental hygiene on and off for eight years while married to her husband and raising their three children.
In order to progress in her chosen career, she entered the Doctor of Dental Surgery program at the University of North Carolina at Chapel Hill. She graduated in 1984 with her DDS degree and went into private practice in Chapel Hill in 1985. Since then, Dr. Vice has had the privilege of caring for and enhancing the smiles of many wonderful people for 30 years.
"I have to say the whole thing has been rewarding. Had this young woman, she was a divorced mom with two kids. She'd been on a lot of medications, her teeth, all the way across the front were just black rings. She was so ashamed to be able to smile, she hadn't been to the dentist, I don't think in about five years. She came in, and she said, 'If you're nice to me, I'll be here.' What she meant by that was, 'Meet me where I am.' Whatever happened to be in that circumstance, whether it was medication, or chronic illness, or whatever it was, I said, 'Look, let's get the front looking good first.' Yesterday, we ended up doing eight front teeth, and I worked several hours on that, to make them beautiful. When she left, she had a smile from ear to ear. It's going to make her feel more confident in her work, it's going to make her feel more confident with her family at Christmas time. It's such a blessing to be able to have the talent, and the skill, and the facility to do that. It's pretty amazing."
"I started undergrad at Ohio State University in 1968. Most women didn't go into dentistry as a profession at that time so I decided that I would be a dental hygienist and one of the reasons I got interested in that is because I was one of seven children, we couldn't afford braces on the teeth so my teeth were quite crooked and so I thought, "Wow. I'd love to better my dental health. I'd love to get braces on my teeth," and I got interested in dental hygiene so I was admitted to dental hygiene at Ohio State University my junior year and I got married my junior year so my husband signed up to be a Marine Corps pilot.
"That kind of put a squash on the plans there so I did three years at Ohio State and then he had to go to basic jet training in Pensacola, Florida so we moved to Pensacola and I finished my last clinical year of hygiene there and then from there, we moved to Texas and then to North Carolina and I love North Carolina. It's the most beautiful state. It has the mountains and the ocean. The dentist I was working for at the time said, 'Well, they're actually starting to take more women in dental school now,' and he said, 'Dinah, you're a great hygienist.' He said, 'I think you'd be a good dentist,' so thanks to the dentist I was working for, I actually went and applied to dental school. Here I am about 40 years later and 11 grandchildren later and two children who are dentists later."