While I'm sure you love visiting your dentist at Sunrise Dental, I'm sure he or she doesn't make the cut for who you want to spend some quality time with during the holiday season. Follow these five holiday dental care tips so you can steer clear from any emergency trips to our
Raleigh dentist office
during the Christmas season: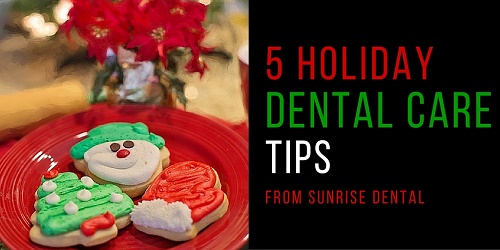 5 Holiday Dental Care Tips
Don't Be a Nutcracker: While the protein in nuts can help keep muscles and bones strong, you should avoid testing the strength of your teeth by biting into any nuts. The hard surface of most nutshells can cause serious tooth and gum damage. In fact, you can even suffer a cracked tooth if you bite into a hard enough nutshell. Stay on the safe side and let those decorative and functional nutcrackers do the hard work for you!
Say No to Chewy Treats: Holiday platters, gifts, and stockings are often filled with sweet treats that can be detrimental to your mouth's health. Sticky substances cling to your tooth enamel and promote tooth decay. Really sticky candies like caramel and taffy can even yank out your mercury-free fillings. Make sure to eat sweet treats sparingly and to brush and floss often.
Use Appropriate Tools to Open Gifts and Packages: We know those packages on the front door step and the gifts underneath the tree can be tempting to open right away; however, your teeth are not the right tools for the task. Gripping a package with your teeth can possibly crack them. Give your mouth a great gift this holiday season – reach for the scissors or a sharp key when opening hard-to-open presents.
Don't Cope With Holiday Stress By Nail Biting: With so much holiday shopping to do and so little time, the holidays can often bring stress to a lot of people; however, biting your nails will not bring relief or a solution. Anxious nail biting is bad for not only your fingernails but your teeth too. Try coping with holiday stress in alternate ways, like taking a hot bath or treating yourself to an afternoon at the spa.
Avoid Chewing on Candy Canes: Gnawing on hard candy like candy canes can lead to cracked or chipped teeth, which are not only painful but can get pretty pricey to treat too. Instead of biting on hard candy, try licking it or just avoiding those candies altogether. While everyone has good intentions to following these holiday dental care tips, we know that accidents can still happen. If you have a holiday dental emergency, please do not hesitate to contact one of our four Sunrise Dental locations: Raleigh, Durham, Chapel Hill, and Cary. Happy holidays!!