Invisalign is the perfect option for patients who want to fix their crooked teeth, overbite or gap teeth and don't want to wear metal or traditional braces. Sunrise Dental is an
Invisalign preferred vendor
in the Raleigh-Durham-Chapel Hill area, helping patients get the smile they want and deserve. Our dental practice receives many questions about Invisalign, ranging from how long treatment takes to how the clear braceless teeth straightening system works:
How does Invisalign work?
Our dentists begin by using advanced dental technology to model the initial position of your teeth and the desired final position of your teeth. Then, a series of aligners are custom made for you, based on the models of your teeth, to adjust your teeth little by little. Each aligner is worn for approximately two weeks before being replaced with the next aligner until your teeth reach their desired positions.
Invisalign Closeup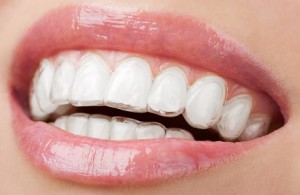 How long will I have to wear Invisalign?
You will need to keep the aligners over your teeth about 20 hours every day. The total length of your treatment depends on the complexity of your case, ranging anywhere from a few months to a few years. Your dentist will be able to give you an accurate estimate of your treatment time.
Are Invisalign Braces really invisible?
Invisalign aligners are made of strong, medical grade thermoplastic material that is clear and fits snugly over your teeth. They are difficult to see up close and near impossible to see from a distance of more than a few feet.
Does Invisalign hurt?
While the application of the aligners does not hurt at all, Invisalign may cause soreness in the teeth and gums as it shifts your teeth into place. Most patients feel some discomfort when aligners are first placed over the teeth but find them less noticeable the longer they are used. It is recommended to take 2 Ibuprofen if your Invisalign braces are causing you pain or discomfort.
Do Invisalign Braces contain Bisphenol A (BPA)?
No. Invisalign aligners do not contain any BPA or phthalate plasticizers. Invisalign aligners are made with medical grade polyurethane resins that have been tested to be safe for use in human mouths.
How Much Does Invisalign Cost?
The cost of an Invisalign treatment can range anywhere from $2,000 to $8,000, depending on the complexity of your treatment. Your dental insurance may also cover some or all of the cost of your Invisalign treatment, so come in for an appointment today for an accurate quote.
How do I care for my Invisalign Braces?
It is important to keep your aligners free of plaque and tartar that can cause cavities and bad breath. Soak your aligners weekly in a solution of 50% water and 50% hydrogen peroxide (3%) for 5-7 minutes, then brush them with a soft toothbrush.
Talk to an Invisalign Dentist Today!
Schedule a consultation with one of our Invisialign dentists today to find out if this clear braceless teeth straitening system is right for you! We have three convenient locations in the Triangle area:
Raleigh
,
Durham
,
Chapel Hill
.