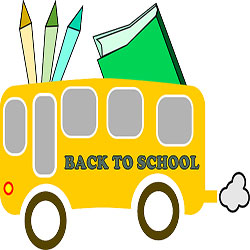 At Sunrise Dental, Dr. Dinah Vice, DDS & Associates, we are dedicated to our patients, giving them the utmost care, respect and attention. With school back in session, kids are involved in new activities and it's extremely important that they maintain their dental health. Sunrise Dental offers easy tips to help you and your kids maintain good oral hygiene!
Make an appointment
for your child and get our back to school special! Make sure to mention this newsletter, children under 12 can receive an exam and cleaning for only $89 (reg. $114). Start the school year off with a healthy smile!
Make a Routine – Routines are important when it comes to dental health, especially for kids. Brushing and flossing at the same time each day helps children establish a habit. Develop an oral health routine that is easy to follow, such as having your child brush in the morning and in the evening before bed time.
Brush & Floss Daily – Keeping up with daily brushing and flossing helps remove unwanted plaque. When plaque is stuck on teeth and gums it combines with sugars, which can lead to tooth decay, gum disease, and other oral problems. The American Dental Association suggests brushing twice a day for two minutes and flossing at least once. Better yet, try to brush after every meal!
Snacking – Everyone enjoys a sweet snack from time to time, especially kids. Send them to school with a healthy snack to help ensure good oral health. Maintain a balanced diet with fewer foods that contain sugars and starches, it'll be a healthy way to start out the new year for you and your kids!
Visit Your Dentist Regularly! It's important to visit your dentist twice a year for check ups and cleanings! Sunrise Dental offers a wide variety of general, restorative, and cosmetic dental procedures to preserve the beauty and health of your smile. Always offering great dental specials, Dr. Vice and staff will work with you to fit your dental needs!
As always, we are here to serve you. Best Regards, Dr. Dinah Vice and Associates